Rooms is the first tab in the Battlezone.
Here you can see a list of default rooms and rooms created by other users appropriate for your level.
Joining:
Edit

To join a room, simply select an available room and click "Join", entering a password if needed. You can also click "Quick Play" to let the game choose an available room for you.

Creating:
Edit
If there are no rooms you wish to join, you can create your own room by clicking "Create". 
In the room creation dialog you can choose the map, set the maximum number of players, set level limitations, lock the game with a  password, choose game mode, and set the title of the room.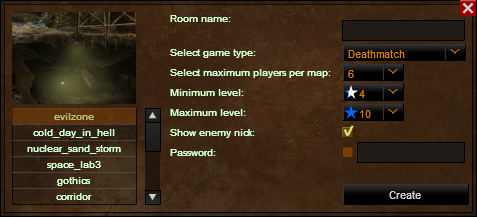 Spectating:
Edit
If you simply wish to view a room instead of joining it to play, you can select it and click the spectate button. This is especially useful if the room is full, password protected, or you aren't the right level to join. To see unavailable rooms so you can spectate them, click the "Show all Rooms" button.
Re-ordering Room List:
Edit
If you wish to see the list in a different order, simply select the option you prefer from the ordering drop-down list:
Refreshing:
Edit

As you learn how to play, one useful button will be the refresh button which will update the list of rooms. If you don't see any available rooms, or any with users in them, try using this button (or creating your own room).
Community content is available under
CC-BY-SA
unless otherwise noted.